Preventative maintenance is the best way to ensure your vehicle stays reliable and lets you avoid major repairs and the expenses that come with them. At Affordable Automotive Repair, we provide a complete preventative maintenance program and carry all the necessary parts and expertise to take care of the little jobs that let you avoid the big ones. Choose from a comprehensive range of fluids, oils, filters, and belts your vehicle needs to keep running happily and healthily. Relax while your ride is inspected by our highly-trained technicians, and rest assured that it'll keep running smoothly for miles and miles.

The first part of our preventative maintenance program deals with your vehicle's fluids. Your car needs these fluids to keep running smoothly and prevent overheating. Most of our fluid change services are completed quickly, so you can return to the road in Fredericksburg, VA. Our technicians are happy to monitor and refill your engine oil, automatic transmission fluid, brake fluid, anti-freeze, power steering, and wiper fluids. We also check your radiator to ensure stones and other road debris cause no small leaks.

The next area of our program deals with the filters in your car; whether filtering oil, fuel, or air, your car's engine and drivetrain rely on pure ingredients free from power-robbing particles. For example, your vehicle's fuel system wants only the most refined gasoline or diesel. When microscopic particles build up in the system over time, they reduce its efficiency and cause issues like decreased gas mileage. The same goes for your engine's air filter. An engine needs a mix of fuel and air to create combustion, which can't happen if your motor can't breathe. Regularly changing your car's filters will prevent this from occurring. Affordable Automotive Repair will make sure all your car's filters are flowing smoothly and clearly, as well as the often-overlooked cabin air filter, which can make a huge difference in how pleasant a car is to be inside.

Tire balancing is an important area of preventative maintenance where we excel. If your car's tires are out of balance, they could put undue strain on components in the suspension, braking, and drivetrain systems, which can cost you considerably further down the road. Ensuring a smooth ride with professionally balanced wheels and tires is a much cheaper, easier, and safer way to ensure your car stays on the road while ensuring a long life for your tires.

Your car's timing belts are crucial to examine during preventative maintenance. There are several events that need to take place for one complete revolution of your car's engine. These belts ensure that they all line up with each other and occur at precisely the right moment. Should the belts become damaged or break, the events can fall out of sync and happen at the wrong time, which can be seriously detrimental to the health of your engine and your car overall. Affordable Automotive Repair ensures that all your car's belts are healthy and that those events keep happening at the right time.

If you want Affordable Automotive Repair to make sure that your vehicle is well-equipped to continue transporting you safely for years to come, call us at 540-710-5400, or visit us in Fredericksburg, VA so we can schedule a time to take a look at it!
What our clients are saying about us
We have established longterm and stable partnerships with various clients thanks to our excellence in solving their automotive needs!
More Reviews

Great customer service! This is what I remembered from previous visits in the past to Affordable Auto Repair. They are friendly and courteous. They take the time to explain everything up front and answer all your questions. Matthew handled everything concerning my service from beginning to end. James also followed up to make sure things were right and was a great listener. Just good people to deal with. Oh what did I have done? Had my 2007 Toyota Highlander inspected there today. Inspections are always a necessary pain and I hate it when it comes around. I was there when they opened at 8am and they took my car in right away. I had a couple of items that needed to be fixed to pass which Chris the inspector explained to me and showed me. Matthew, who checked me in, said if I got these fixed, they would slip me back in to verify the fixes, remove the Rejection and replace it with a new inspection sticker. Done deal! Just as they said! I couldn't have asked for more. Thanks Matthew, James, and Chris!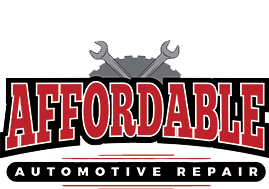 I was referred to Affordable Automotive by a family friend. My check engine light had been coming on in my Expedition. James promptly set my appointment, kept me informed of what was needed and within 24 hours I had my Expedition back in my possession. I highly recommend them! Very honest, affordable and very quick turn around. I will be a returning customer!