COURTESY INSPECTION
COURTESY INSPECTION
IMPORTANCE OF A VEHICLE INSPECTION
Car inspections are an absolute crucial aspect of car maintenance and ownership. Like any complex machine, cars need to be inspected, maintained, and repaired on a regular basis to ensure that everything is in working order and that there are no major issues that would cause a safety or performance problem.
OUR POLICY
Unlike many other shops, we have a policy that every time a vehicle comes in a shop for an oil change or whatever it may be that we do a full inspection including a digital inspection. We record what's wrong with any part of the vehicle. We look under the hood as seen in the picture below. We check your belts, hoses, fluids, air filter, for oil leaks, and much more.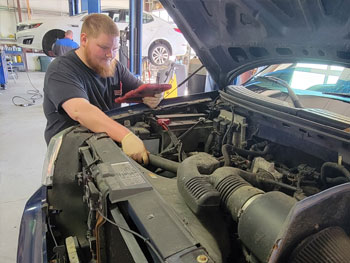 WHAT A REGULAR, COMPLETE CAR INSPECTION IS
A regular, complete car inspection consists of a thorough, systematic, point-to-point check of major aspects of the car's structure and operations. These are performed on a regular schedule and are conducted the same way every time, regardless of previous repairs or service. A car inspection typically includes:

Fluid checks (including oil, transmission fluid, brake fluid, Power steering, coolant, windshield wiper fluid)
Tire check (pressure, tread check)
Brake inspection
Examination of hoses and belts (usually looking for wear or cracks)
Identification of any battery issues (battery test)
Filter check (including engine and cabin air filters)
Interior & Exterior lighting
Suspension
The purpose of a car inspection is not necessarily to correct anything, but rather to visually look over the vehicle and see if any issues need further attention. From there, more specialized technician work can follow if needed.
WHY YOU SHOULDN'T SKIP CAR INSPECTIONS
Forgoing regular check-ups for your car can mean disaster in the long run. It is very unwise to try to "save a few bucks" by skipping preventive maintenance.
Consequences of failing to regularly inspect and maintain your car:

Paying more for more extensive repairs later on
Long-term damage to your car, sometimes irreversible
Increased risk of a breakdown or accident, thus reducing car safety
Affected performance, including acceleration, gas efficiency, and even pollution/smog output
Here is an example: Driving while your car's engine coolant levels are low can cause damage to the water pump and other expensive parts. It's much cheaper to top off the coolant than to replace a major part. Or, if the air filter is dirty, it can result in greater fuel consumption, which can cost you hundreds of extra dollars a year in gas expenses.
OUR TECHNOLOGY
What is really cool about our inspection process is that we have created our own inspection program with a customized checklist. We use our Tablets/ IPADS to ensure we have checked every part and if we do find a problem, we can scan a photo or video of it and show our customer. Unfortunately, in the auto repair industry, there is kind of a bad reputation of shops taking advantage of customers who do not know much about cars. So, by being able to actually show our customers what we are seeing, we help them feel more comfortable about the decisions they are making and it helps them trust us more!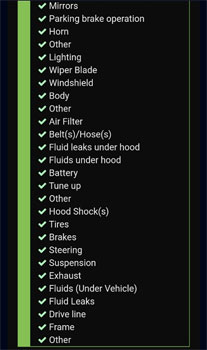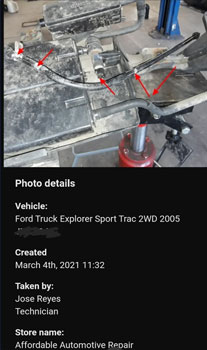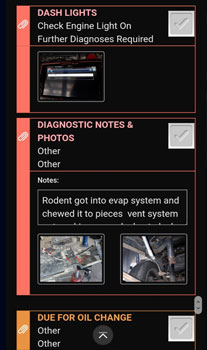 AFFORDABLE'S REGULAR INSPECTIONS: WHY YOU SHOULD HIRE A PROFESSIONAL TO HANDLE YOUR CAR INSPECTION
As mentioned, most people don't know how to conduct a full car inspection. On top of that, most people don't know when to inspect their cars. Thus, the most practical thing to do is to hire a certified, experienced professional to conduct the inspection for you. Your service professional can recommend any service needed now as well as any major or long-term repairs that need to be done. Lastly, they'll be able to schedule your next appointment for you and set a date for your next vehicle service/ inspection.

Regular, comprehensive car inspections can save you lots of money and hassle in the long run. Do you need a detailed, thorough car inspection for your vehicle? Stop by Affordable Automotive Repair, Fredericksburg's favorite auto repair. We will text you the inspection report when completed.