At Affordable Automotive Repair we value the safety of our customers above all else. We want to ensure you get to where you're going every time with a reliable and safe vehicle. Tires are A major problem for the cars and trucks that come into Affordable Automotive Repair. Your tires are your connection to the road, and without them doing their job properly, all the handling development and safety testing that went into your car may not keep you safe. Here is some basic information on your tires and how to know when the time has come for replacements.
Why are old or bad tires dangerous?
As stated above, your tires are a critical component of your car or truck. If you've ever been out of control in a vehicle, you'll know how scary being a powerless passenger inside a two-ton metal box can be. Driving on tires that are too old, improperly inflated, out of balance, or not suited to weather conditions can spell disaster for your safe journey. Your tires were designed with a particular task in mind. Misusing them can have sudden and catastrophic consequences.
Signs your tires need air
This issue can be pretty simple to spot. If your tire is wider at the part that contacts the road, they need to be topped up with air. Driving on under-inflated tires wears them out faster due to uneven pressure on the sidewall and can lead to full-on flats and even shredding the tire off the wheel! Low tire pressure ruins your vehicle's fuel economy. If you've ever ridden a bicycle with under-inflated tires, you know how much extra effort you must put in to get moving and stay rolling. On the flip side, driving with too much air in your tires is also unsafe. While it's unlikely that hitting a large pothole would cause the tire to burst (remember, they're built to last for thousands of miles), having too much air pressure in a tire reduces the size of the contact patch or the area where the rubber meets the road. This can lead to less grip and control over your vehicle. Every tire manufacturer prints the correct tire pressure on the side of their tires, so it's easy to find the perfect pressure for your ride.
Signs your tires are out of tread
As with having over-inflated tires, a lack of tread can lead to less control and worse handling for your car or truck. Your tires' tread patterns help them hold the road and channel mud and water away from the areas that need to do the gripping. Without enough tread depth, your car can ride up on top of water on the road and cause you a complete loss of control. There are a few standard methods of measuring tread depth, such as using a penny to gauge whether or not it's time to replace your tires. Still, we recommend coming into Affordable Automotive Repair in Fredericksburg, VA for a professional opinion on the matter. Not all tires are created equal and must be replaced at different times.
Signs your tires are damaged
Signs that your tires are damaged can come from a few sources. A visual inspection can catch potential problems before they become major issues, such as nails or rocks embedded in the tread grooves. Always remember that a great deal of pressure is contained within your tires. If you see any gashes, bubbles, or hear the hiss of air escaping, it's best to stay away from that tire and enlist the help of a professional. Believe us, you don't want a tire exploding anywhere near you.
You can sometimes feel tire damage while driving. If your car begins to make strange noises as it goes down the road or the handling suddenly worsens, you should pull over as soon as it's safe. Driving on a flat is a bad idea and can often lead to more severe damage to your vehicle.
What can and cannot be repaired
Tires are expensive, and we take any opportunity to repair them safely and save you money. Small punctures can often be plugged and patched (it should always be both!), but the tire's day is sometimes done. If the hole is on the outer edge of the tire (outside the tread), it's probably unsafe to repair. The same goes for a tire that's been driven on while flat. In this case, the sidewall has weakened, and the tire is no longer safe. As with recommended pressures, each manufacturer has guides for what can and can't be repaired.
At Affordable Automotive Repair, customer safety is our number one priority. We hope you'll be safer with this information. If you'd like to discuss whether your tires need inspection or replacement, call us at 540-710-5400 or visit us at 4637 Mine Rd in Fredericksburg, VA. Happy travels!
We offer most major brands of tires. These are a few of our preferred brands.





Tires Questions and Answers
Q: At what mileage interval should I rotate my tires?
A: Experts recommend you rotate your tires every 5,000 to 7,500 miles. While this is a good rule of thumb, your vehicle's exact interval will depend on its drivetrain and your driving habits. More aggressive drivers in the Fredericksburg area may need to rotate their tires more often. Our experts at Affordable Automotive Repair can work with you to determine the tire rotation schedule that will work best.
Q: What are the advantages to rotating my tires?
A: The main advantage of getting your tires rotated is to even out the tread wear of your tires. Evenly worn tires contribute to a smooth and comfortable ride. Rotating your tires consistently can also extend the life of your tires. It can enhance safety by helping to prevent pulling and an uneven grip between the tire and the pavement.
Q: How do you check tire pressure?
A: First, remove the cap from the air valve on the tire and put it somewhere you won't lose it. Press the tire gauge against the open valve stem for a second or two. Next, read the air pressure gauge. Compare the number on the gage with the recommended tire pressure from your car's owner's manual or the sticker that should be next to the driver's side door opening. Finally, replace the tire's air valve cap. You can also bring it right here to Affordable Automotive Repair.
Q: Does my tire warranty influence my rotation schedule?
A: Tire manufacturers know that tire rotation is important for even tread wear. Tire mileage warranties are most often set by the manufacturers with tire rotations included. Failing to rotate your tires may void your tires manufacturer warranty.
Q: What throws tires out of balance?
A: If you hit a curb or pothole your wheel-tire assembly can get out of balance. Everyday wear on tires and wheels can also cause an imbalance. Many experts recommended that you get your tires balanced every 5,000 to 7,500 miles or every 2 years. If you buy a new set of tires, you may find that tire balancing is included in your purchase. At Affordable Automotive Repair, we can check your tire balance and make any necessary adjustments for you.
Q: How do you check tire tread depth?
A: Check all of your tires in multiple locations by inserting a penny into the tread groove on your tire with Lincoln's head facing toward you and the top of his head touching the tire. If you can see all of Lincoln's head, your tires are worn out and you need new tires. Of course, you can bring your vehicle to Affordable Automotive Repair in Fredericksburg and our experts can check it for you.
Q: How does snow tire usage influence rotation decisions?
A: If you have snow tires check your tire pressure and rotate your winter tires on a regular schedule. Rotating snow and winter tires is important to maintaining even treadwear and preserving maximum traction in icy conditions.
Q: Is it okay to mix tire brands on a car?
A: Sometimes mixing brands and models on your car is unavoidable, but having a complete matching set is best. If possible, use the same tire on the front or rear wheels. While it's not usually advised, you can mix different tire brands on the same car, if you follow a few simple guidelines. Those include: never mix winter tires with all-season or summer tires; and to not mix run-flat tires with non-run-flat tires. For guidelines in the Fredericksburg area, give us a call at
540-710-5400
.
What our clients are saying about us
We have established longterm and stable partnerships with various clients thanks to our excellence in solving their automotive needs!
More Reviews

Great customer service! This is what I remembered from previous visits in the past to Affordable Auto Repair. They are friendly and courteous. They take the time to explain everything up front and answer all your questions. Matthew handled everything concerning my service from beginning to end. James also followed up to make sure things were right and was a great listener. Just good people to deal with. Oh what did I have done? Had my 2007 Toyota Highlander inspected there today. Inspections are always a necessary pain and I hate it when it comes around. I was there when they opened at 8am and they took my car in right away. I had a couple of items that needed to be fixed to pass which Chris the inspector explained to me and showed me. Matthew, who checked me in, said if I got these fixed, they would slip me back in to verify the fixes, remove the Rejection and replace it with a new inspection sticker. Done deal! Just as they said! I couldn't have asked for more. Thanks Matthew, James, and Chris!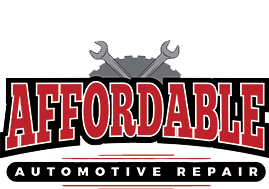 I was referred to Affordable Automotive by a family friend. My check engine light had been coming on in my Expedition. James promptly set my appointment, kept me informed of what was needed and within 24 hours I had my Expedition back in my possession. I highly recommend them! Very honest, affordable and very quick turn around. I will be a returning customer!