Ask Us About Yokohama Tire Rebate, Warranty and Guarantee
Yokohama tires are an excellent choice for your family no matter which road you take. Known for top-notch traction and tight handling while hugging corners, you can trust Yokohama tires to keep your family safe. At Affordable Automotive Repair, we know that tire-buying can be complex but we make it easy by offering great brands like Yokohama. Yokohama is the industry-leading tire that you don't have to think twice about.
If you're looking for a tire that offers durability and comfort, give Affordable Automotive Repair a call today at 540-710-5400 to see if Yokohama tires are a good fit for your vehicle! Drivers near your neighboorhood come back to Affordable Automotive Repair because just like Yokohama we believe tires should be reliable and affordable. Just minutes from everything, we are driving distance from you. Stop by Affordable Automotive Repair at 4637 Mine Rd, Fredericksburg, VA, 22408.
Everything You Need to Know Before Buying Yokohama Tires
Yokohama is a Japanese tire manufacturer best known for being an industry leader in innovation. They're a force to be reckoned with in the tire industry and a popular choice for motorists throughout Fredericksburg.
Yokohama was founded in 1917 in Japan and later expanded to the United States in 1969. There are currently two Yokohama manufacturing plants located in the United States, one in Salem, Virginia, and the other in West Point, Mississippi.
Yokohama produces several families of tires, all of which have a lower environmental impact than most other tire brands on the market. At Affordable Automotive Repair in Fredericksburg we recommend Yokohama because they employ innovative solutions to create a tire with the quality you can trust without sacrificing the environment. With 29 types of tires spanning over five product families, Yokohama has a tire for every vehicle's needs. The five Yokohama tire families include:
Advan
Avid
Geolandar
iceGuard
BluEarth
At Affordable Automotive Repair, we offer a complimentary assessment to determine which Yokohama tire is best for your vehicle and lifestyle needs. We'll discuss the average amount of miles you drive, your daily commute, and much more to determine the perfect fit for your vehicle. If you have any questions, or you're ready for your complimentary tire assessment, give Affordable Automotive Repair a call at 540-710-5400 to get started today!
From thoroughly testing each tire after production to offering extended warranty options, increased safety and performance are Yokohama's top priorities. Affordable Automotive Repair backs the extensive warranty offerings of Yokohama so you trust your tires even under the worst conditions. If you have any questions about Yokohama's warranty programs, give Affordable Automotive Repair a call today at 540-710-5400 and ask us about all Yokohama rebates, warranties, and guarantees.
When it comes to finding an exceptional tire with sustainability at the forefront of its operations, Yokohama is the best on the market. They were the first Japanese tire manufacturer to be certified in recognition of quality assurance in all of their operations.
If you're looking to upgrade to a tire that offers all-around superior performance and fuel efficiency, give Affordable Automotive Repair a call at 540-710-5400 today to get a set of Yokohama tires! Come by our shop at 4637 Mine Rd, Fredericksburg, VA, 22408 and talk with a Affordable Automotive Repair tire specialist about a new set of Yokohama tires.
What our clients are saying about us
We have established longterm and stable partnerships with various clients thanks to our excellence in solving their automotive needs!
More Reviews

Great customer service! This is what I remembered from previous visits in the past to Affordable Auto Repair. They are friendly and courteous. They take the time to explain everything up front and answer all your questions. Matthew handled everything concerning my service from beginning to end. James also followed up to make sure things were right and was a great listener. Just good people to deal with. Oh what did I have done? Had my 2007 Toyota Highlander inspected there today. Inspections are always a necessary pain and I hate it when it comes around. I was there when they opened at 8am and they took my car in right away. I had a couple of items that needed to be fixed to pass which Chris the inspector explained to me and showed me. Matthew, who checked me in, said if I got these fixed, they would slip me back in to verify the fixes, remove the Rejection and replace it with a new inspection sticker. Done deal! Just as they said! I couldn't have asked for more. Thanks Matthew, James, and Chris!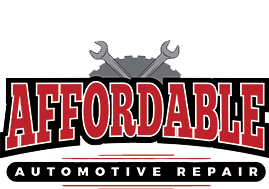 I was referred to Affordable Automotive by a family friend. My check engine light had been coming on in my Expedition. James promptly set my appointment, kept me informed of what was needed and within 24 hours I had my Expedition back in my possession. I highly recommend them! Very honest, affordable and very quick turn around. I will be a returning customer!