At Affordable Automotive Repair, we understand that time is money, and if your heavy-duty vehicles aren't out working, then you aren't earning. With this in mind, our highly trained and dedicated workforce will quickly diagnose and repair any problems with your commercial vehicle's powertrain, hydraulics, electronics, braking systems, or any other component vital to the smooth operation of your business. While light-duty repair shops are common, it's harder to find technicians with experience in heavy-duty vehicle repair. Affordable Automotive Repair makes certain our knowledge of these vehicles remains up-to-date so we can serve your needs in 22408 and surrounding areas.

At Affordable Automotive Repair, we've been guaranteeing that companies around the Fredericksburg, VA area have access to the mechanical power they need since 2000. Our mechanics are second to none, just like the service we provide to our commercial customers. We're experienced with all aspects of diesel powertrains, and can have your problem engine taken apart, diagnosed, and reassembled if needed. Our mechanics are fully trained and certified to work with the extreme pressures of hydraulic systems, in a safe and professional manner. We will diagnose any electrical gremlins that may be plaguing your vehicles with speed and skill. We also have ample experience working with air-brake systems.

Another area of specialty at Affordable Automotive Repair, is the work we perform on stricken tractor-trailers. This work can be as simple as replacing bodywork and engine components, but can also include major jobs like chassis swaps and adjustments. We understand that these vehicles cost your company a lot of money, and if there's any way that we can get them back out on the road while adhering to safety standards, we will. At Affordable Automotive Repair we find great satisfaction in skillfully resurrecting these vital vehicles to work another day in our community in Fredericksburg, VA.

All work that leaves Affordable Automotive Repair is fully guaranteed to meet and exceed the regulatory standards required to get your vehicle back on the road, ensuring a hassle-free return to service for your vehicle and a smooth return to profits for your business. Call us at 540-710-5400 to learn about our heavy-duty vehicle repair services in the Fredericksburg, VA area!




To learn more about our Heavy Duty Repair services, call us at 540-710-5400 or request a quote by clicking below:
Request Quote
What our clients are saying about us
We have established longterm and stable partnerships with various clients thanks to our excellence in solving their automotive needs!
More Reviews

Great customer service! This is what I remembered from previous visits in the past to Affordable Auto Repair. They are friendly and courteous. They take the time to explain everything up front and answer all your questions. Matthew handled everything concerning my service from beginning to end. James also followed up to make sure things were right and was a great listener. Just good people to deal with. Oh what did I have done? Had my 2007 Toyota Highlander inspected there today. Inspections are always a necessary pain and I hate it when it comes around. I was there when they opened at 8am and they took my car in right away. I had a couple of items that needed to be fixed to pass which Chris the inspector explained to me and showed me. Matthew, who checked me in, said if I got these fixed, they would slip me back in to verify the fixes, remove the Rejection and replace it with a new inspection sticker. Done deal! Just as they said! I couldn't have asked for more. Thanks Matthew, James, and Chris!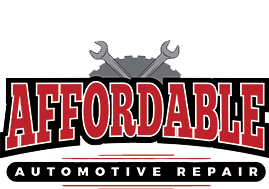 I was referred to Affordable Automotive by a family friend. My check engine light had been coming on in my Expedition. James promptly set my appointment, kept me informed of what was needed and within 24 hours I had my Expedition back in my possession. I highly recommend them! Very honest, affordable and very quick turn around. I will be a returning customer!